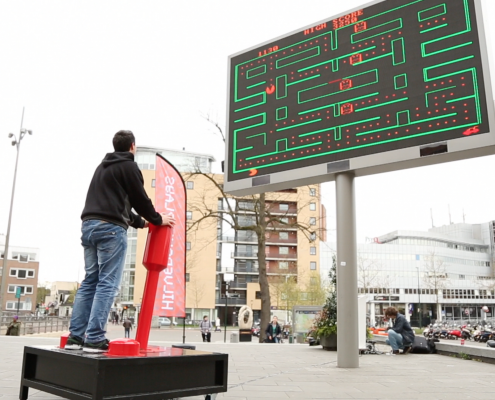 Gaming in your attic is a thing of the past — get out & let's play! To bring everyone outside to play, we've created a giant fully functional joystick 🕹
This controller functions exactly like a traditional Commodore 64 joystick: plug the USB-ports, start the game & let's play! The joystick works with Joy2Key-software and is especially suited for arcade classics like Pacman, Space Invaders, Tetris and Snake
During the summer months, the joystick is used for #HilversumPlays – the open-air gamedays outside the station of Hilversum. The joystick is 1.20m x 1.20m x 1.00m and weighs roughly 70 kilograms.
More Info: 
Want to know or would you like to place C64 at your event or festival?  Call: 003135 – 677 1912 or send an e-mail to: info@dropstuff.nl
C64 is part of The Fair Grounds
Larger-than-life joystick
2018
Concept:
DROPSTUFF.nl
Technical Design and Production:
Peter de Man and Uwe Dobberstein
The Fair Grounds
C64 is part of The Fair Grounds: an artistic project by media design collective DROPSTUFF.nl, consisting of a collection of artworks where amusement rides are presented as art installations. A new narrative has been added to pre-existing attractions and old forms of entertainment have been updated. The result is a fairground where every ride has been modified, enhanced or completely redesigned: popular culture meets high tech and high art!