Shush! This is a breeding ground!
Just like the rare field lark, we breed here in the Soesterberg Airbase Park, but all year round. At this historic and green location, innovation and creative 'disruption' are being worked on.
800 m2 of space for inspiration, innovation and creative disruption at Park Vliegbasis Soesterberg
Looking for a centrally located location in the Netherlands for meetings, workshops, heath sessions or other events? Come to The Fair Grounds Experience! This unique venue is located at the Soesterberg Airbase Park. On this historic airbase, you can receive groups in a shelter of 800 square meters. The location is located in the middle of a beautiful nature reserve of the Utrechts Landschap and is only a 5-minute drive from the A28. A unique place where heritage, technology, creativity, and nature come together.
During the Cold War, the Soesterberg Airbase was an American base where planes performed daily test flights and were ready to take off 24/7 in enormous shelters. Nowadays, it is a protected nature reserve, and a shelter has been arranged as an inspiring and interactive space for meetings, training, or hybrid or online events.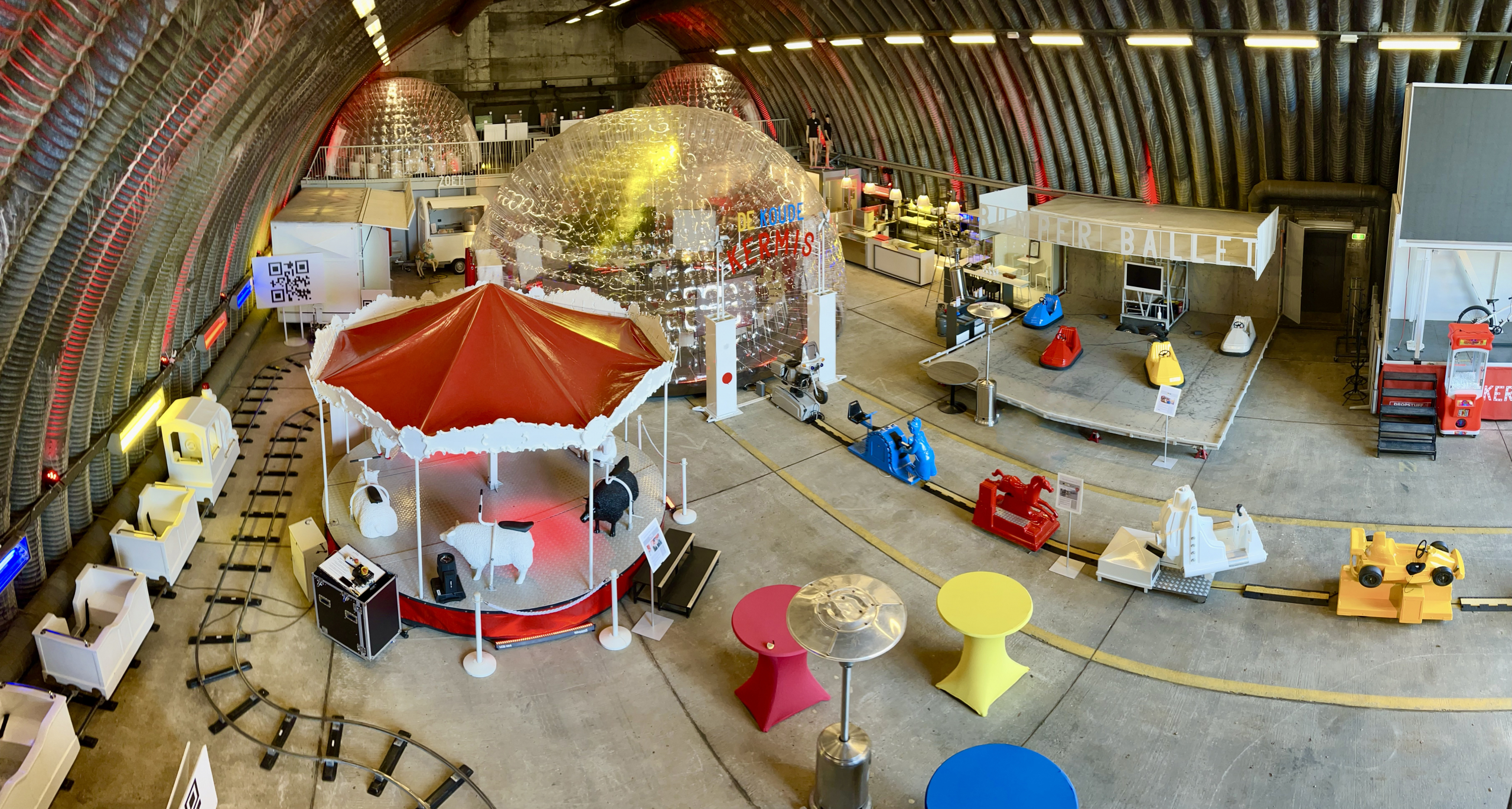 An interactive and artistic fairground as an inspiring environment for your event
This location is based on a special concept. The shelter houses all sorts of fairground attractions from the award-winning project 'De Koude Kermis' by media art collective DROPSTUFF MEDIA. In this project, the various fairground attractions are always connected to the stories of tomorrow, the imagination of creative processes, and the wonder of new technological possibilities. It offers the perfect start to dissect problems and opportunities and develop new ideas. In this completely unique 'new media playground', your guests can experience the possibilities of Virtual Reality, Augmented Reality, or artificial intelligence, for example. The location thus forms the perfect starting point and context for joint innovation or transformation processes.
The ideal location for your company retreats, team sessions, and events!
Meet and present in the shelter
The shelter is equipped with a large central transparent dome tent and smaller spaces for break-out sessions. We are happy to work with you to determine the goals of your day and explore possibilities for speakers, moderators, workshop formats, and technical equipment. With our audio and video systems, lighting, tables, chairs, and flipcharts, you can rest assured that you have the perfect base for your meeting. For refreshments, we offer a high-quality selection of coffee/tea, snacks, drinks, lunch, brunch, cocktails, and dinner options. We would be happy to provide you with a customized package in collaboration with our caterer.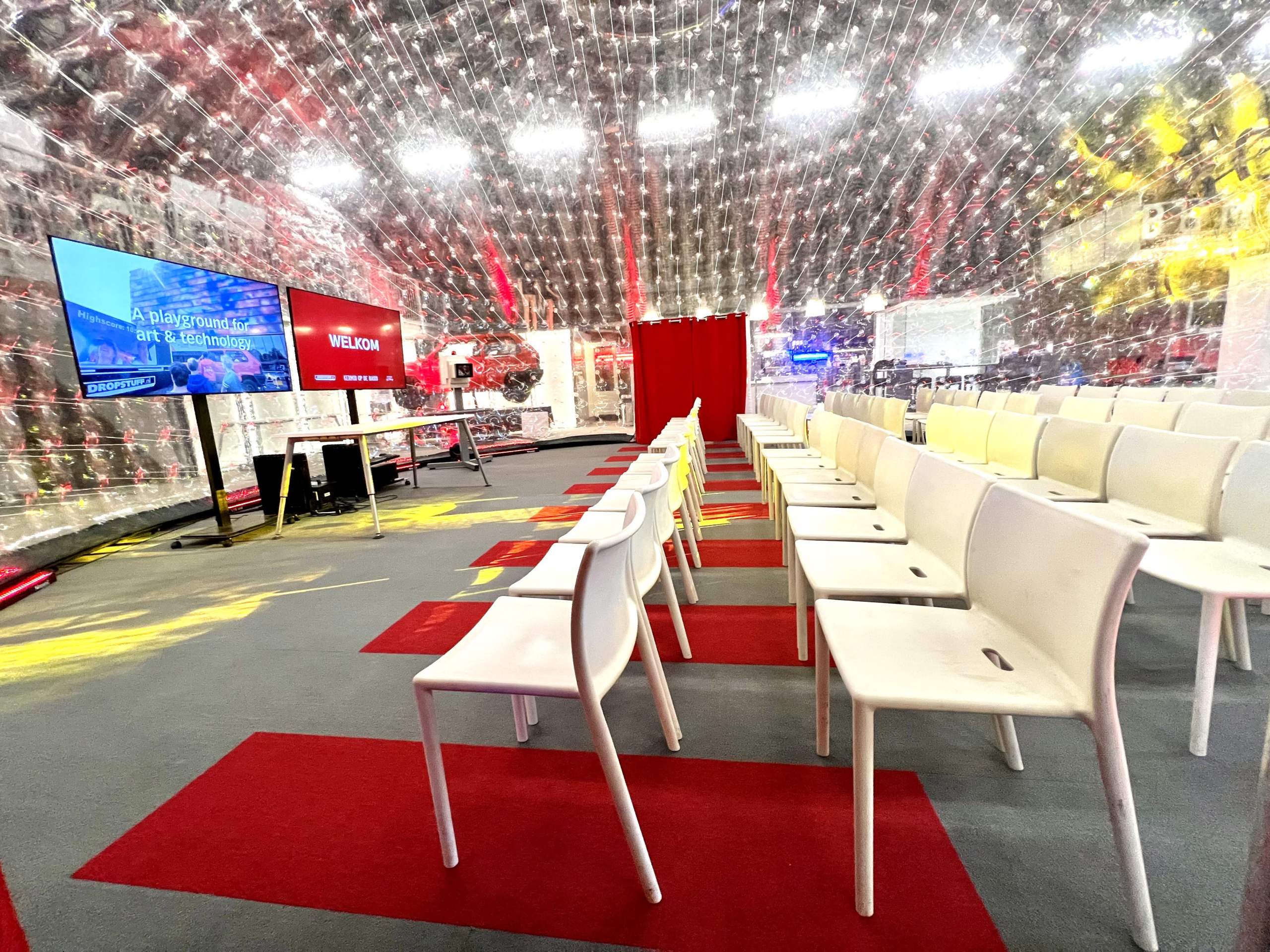 Take a break and enjoy nature!
At this location, you can take a perfect break as the shelter is located in the middle of a nature reserve. We offer unique walks and bike tours through the surroundings of the airbase, led by a guide from the 'Utrechts Landschap', which have been highly appreciated by guests who have already visited The Fair Grounds Experience!
Centrally located, for small and large groups
The Park Vliegbasis Soesterberg is centrally located along the A28 highway between Utrecht and Amersfoort and can be reached by both car and public transportation. Free parking is available on site, and buses run from Den Dolder station. OV-bikes are available at Den Dolder (1.8 km) and Bilthoven (3.5 km) stations, and we can also offer bike rentals.
Shelter 610 is set up for groups of up to approximately 60 people as standard, but larger groups are possible upon consultation. In collaboration with the 'Utrechts Landschap', a second shelter can be used as a large plenary hall with a shared capacity of around 450 guests. The outdoor space directly in front of the shelter can also be used, providing a beautiful environment, particularly in the spring and summer months.
Would you like more information or a customized package?
We would be happy to give you a tour and discuss your needs. The fresh coffee or cappuccino is ready!
Day Programs Innovation and Transformation
The day programs are based on the unique DROPSTUFF methodology, which stems from the classic "design thinking" method as developed or used at Stanford University and in Silicon Valley, where innovation and renewal are driven from the direct need or question of all stakeholders. Through so-called "associative design," people who are not trained as designers are led to new insights through this model. The creative processes and experiential approaches behind DROPSTUFF MEDIA's installations are always included as examples.
Prior to a one-day program, we identify the specific needs and issues in an initial short session. Based on this initial analysis, we put together a specific program. A number of steps will often recur in them:
– The disruption: being open to new ideas
– Focus on the question: E.g., questions about organizational structure, business development, marketing, diversity or sustainability
– The Exploration; What options are all there?
– Sorting out: What to do and what not to do?
– The Roadmap: How do we step into the future?
Afterwards, follow-up processes are possible where input and feedback is also possible within the immediate work environment.
Interactive Experience and Event Venue
800 m2 of "creative disruption" in DROPSTUFF MEDIA's multimedia experience.
Meer info en boekingen
DROPSTUFF MEDIA
035-6771912
info@dropstuff.nl
Adres
Park Vliegbasis Soesterberg
Hertenlaan 12B, Huis ter Heide – Shelter 610
Navigation
Attention! Enter Elandlaan Den Dolder
Just before you turn onto the Elandlaan, you are already on the Hertenlaan, Continue this for 500 meters to entrance 4 Park Vliegbasis Soesterberg.
Do not follow the signs National Military Museum, they lead to the other side of the air base.
View and download the"Kermis Op De Basis" brochure here: