Support DROPSTUFF.nl by giving us your like here on Facebook. Thanks!
• THE BRIDGE – Antwerp – Utrecht October 2013 DROPSTUFF.nl presented 'THE BRIDGE' in cooperation with the Dutch Embassy in Brussels related to the 'Games and Biz' symposium in Antwerp. Visitors at the Jaarbeursplein in Utrecht could play a game these days with passers by at the Mechelse plein in Antwerp.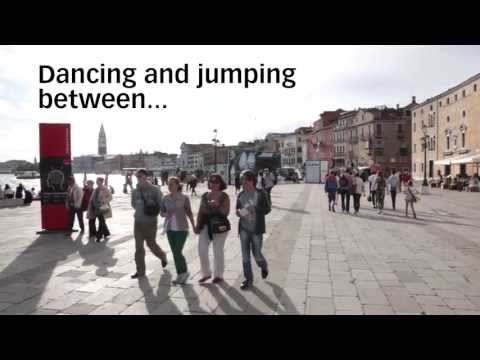 THE BRIDGE Venice-Amsterdam, summer 2013
• MOBILE XXL LED SCREENS FOR RENT - You can now rent the big DROPSTUFF LED-screens for events and festivals for small prizes. See more info at www.ledschermverhuurxxl.nl
---
Been there, done that 
• THE BRIDGE – Museumplein Amsterdam – La Biennale di Venezia 2013  During summer 2013 DROPSTUFF created a special 'bridge' between the reopened cultural heart of the Netherlands, the Museumplein in Amsterdam, and Venice, the city where this summer the 55th most famous event for contemporary art in the world, La Biennale di Venezia will be organised. The bridge has been formed by a live connection between two large public screens that were connected live through internet, and by using a special device; the Kinect. At the two sites, visitors could see and meet each other, and play a game together on the spot. Currently, eight artistic games have been developed by Dutch designers and student groups who were selected based on entries in an open competition.
Using the technology of the Kinect, also known from the X-Box game console and the internet, people can communicate in the streets through movement. Through the game applications designed by the developers, players can together form a famous group of sculptures, perform a dance or even 'leap' between Amsterdam and Venice. Read here the review in EL PAIS, the biggest Newspaper of Spain