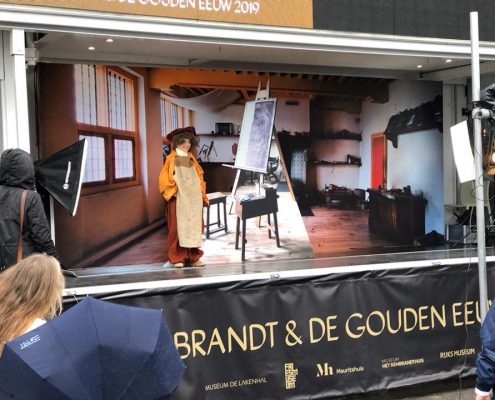 From 2015 on, DROPSTUFF MEDIA has created and presented an XXL photobooth at the Lowlands Festival, the biggest music and culture festival of The Netherlands.
In this lifesize cut-out photostudio you will be transported right into different historic paintings. Related to the Rembrandt year 2019, we have designed as special Rembrandt-edition that will be on show on various locations in 2019, where we showcase 4 different paintings:
De Lakenhal: Historiestuk met zelfportret van de schilder
Mauritshuis: De anatomische les van Dr. Nicolaes Tulp
Rembrandthuis: Rembrandts atelier
Rijksmuseum: De Nachtwacht (The Nightwatch)
DROPSTUFF MEDIA provided the set, the props, the costumes and the lightning — all you have to do is strike a pose!
The DROPSTUFF Photobooth is one of the many interactive installations made by DROPSTUFF MEDIA
Interactive museum photobooth
2015 – 2019
Concept and production:
DROPSTUFF MEDIA
In collaboration with:
Het Mauritshuis, het Rembrandthuis, Rijksmuseum, Museum de Lakenhal, het Fries Museum, Museum de Fundatie en Centraal Museum
Context: 
Since 2015, DROPSTUFF MEDIA has presented a very special photobooth in collaboration with different museums, as part of the Lowlands festival ART-program. For the Rembrandt-year 2019 a special set up has been made with all of the Dutch Rembrandt museums.
Costumes:
Nadia Nelleke
Video:
Veldtwerk / Ard van der Veldt

Weblinks:
www.mauritshuis.nl
www.lakenhal.nl/
www.museumdefundatie.nl/
www.rembrandthuis.nl
www.rijksmuseum.nl