PHOTOBOOTH at Lowlands
&

Uitmarkten 2018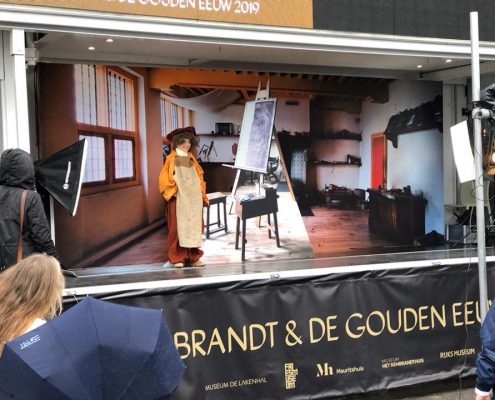 For it's fourth consecutive year at the Lowlands Festival and then travelling to different Uitmarkten: the ever-popular DROPSTUFF.nl Photobooth! In this lifesize cut-out photostudio you will be transferred into different historic paintings. From Museum de Fundatie you will travel to 'Promenade' by Olga Sacharova, Museum De Lakenhal brings you to the times of Rembrandt and het Mauritshuis is showcasing 'The Girl With The Pearl Earring' by Johannes Vermeer.
Afterwards at the Uitmarkten in Amsterdam and The Hague, we celebrate the great master-painter Rembrandt where we showcase 4 different paintings:
De Lakenhal: Historiestuk met zelfportret van de schilder
Mauritshuis: De anatomische les van Dr. Nicolaes Tulp
Rembrandthuis: Rembrandts atelier
Rijksmuseum: De Nachtwacht
DROPSTUFF.nl provides the set, the props, the costumes and the lightning — all you have to do is strike a pose!
—
The PHOTOBOOTH is featured at the Lowlands 2018 festival 17, 18 & 19 August 2018 and continues to travel to the Uitmarkten of Amsterdam and The Hague.
Interactive museum presentation
2018
Concept and production:
DROPSTUFF.nl
In collaboration with:
het Mauritshuis, de Fundatie, het Rembrandthuis, Rijksmuseum en Museum de Lakenhal
Context: 
As part of the Lowlands festival ART-program, DROPSTUFF.nl presents in collaboration with het Mauritshuis, de Fundatie, het Rembrandthuis, Rijksmuseum and Museum de Lakenhal a very special photobooth. The Photobooth continues to travel on to Uitmarkten through the Netherlands
Costumes:
Nadia Nelleke
Video:
Veldtwerk / Ard van der Veldt

Weblinks:
www.mauritshuis.nl
www.lakenhal.nl/
www.museumdefundatie.nl/
www.rembrandthuis.nl
www.rijksmuseum.nl