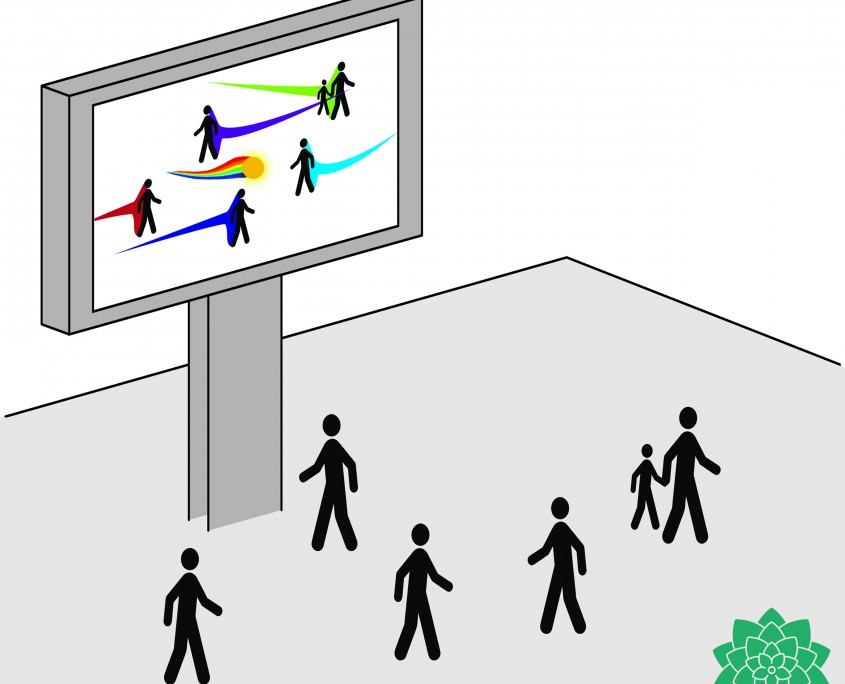 On thursday the 22nd of December 2016 at 15:00 the first public playtest of the interactive game "Tail" took place. This experimental game, developed by a group of students from the HKU (University of the Arts Utrecht) Games and Interaction, gave the visitors and by passers of the station square in Hilversum a virtual tail. This new appendix can then be used to wave to each other and play with a golden ball.
In association with the HKU, Fatplant – a team consisting Jip van der Spoel, Loren de Bont and Rian Goossen – submitted to be the first to create an interactive application made especially for this screen. This heralded their graduation project.
The game "Tail" was meant as an experiment to explore the possibilities of both new media technology and art in the public space. With the use of live streaming webcams everyone in front of the screen will automatically be detected and assigned a tail. This tail floats behind people and gives the user the possibility to wave at each other or play with a virtual bal.
By using interactive and experimental media apps Hilversum will be challenged to look at them and their city in a new way; Hilversum as Media-city.
"Tail" runs every three hours between 22nd of December and the 10th of January at the screens on the station-square in Hilversum.
Game
2016
Made by: Team Fatplant – Jip van der Spoel, Rian Goossens  & Loren de Bont under the supervision of Richard van Tol
In context of: The Bridge Hilversum
Together with: the Netherlands Institute for Sound and Vision, Gemeente Hilversum, Ngage Media